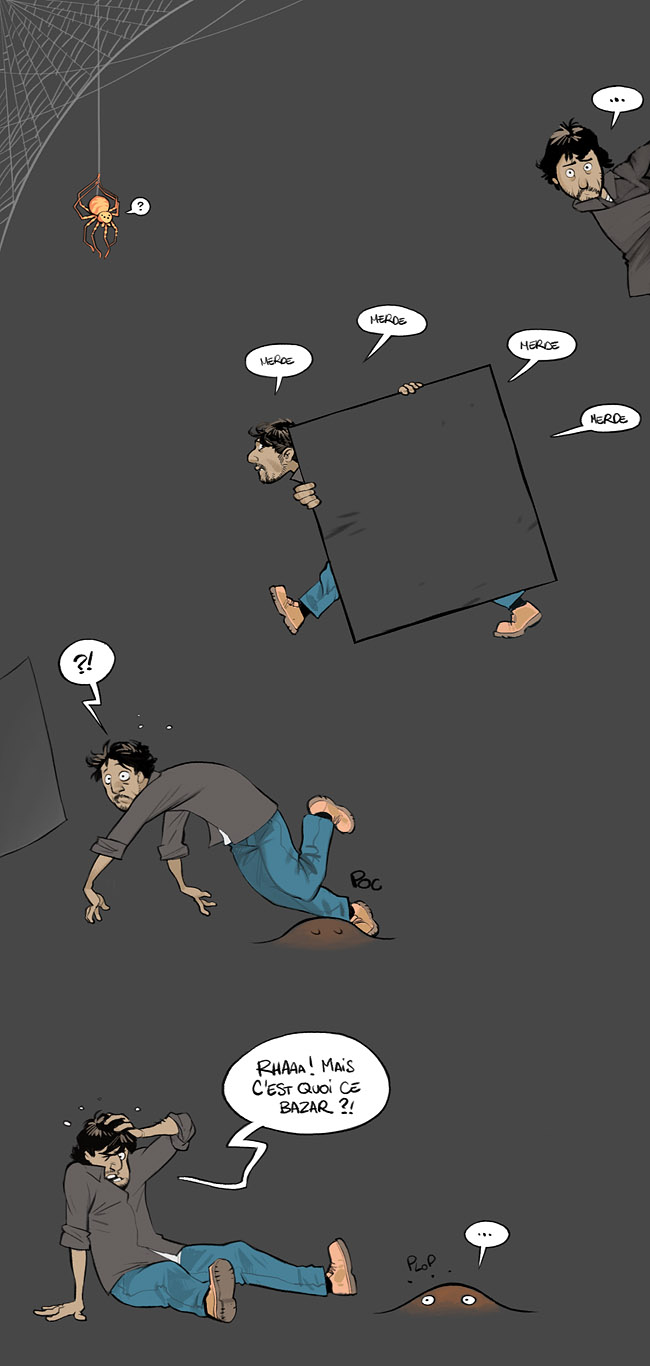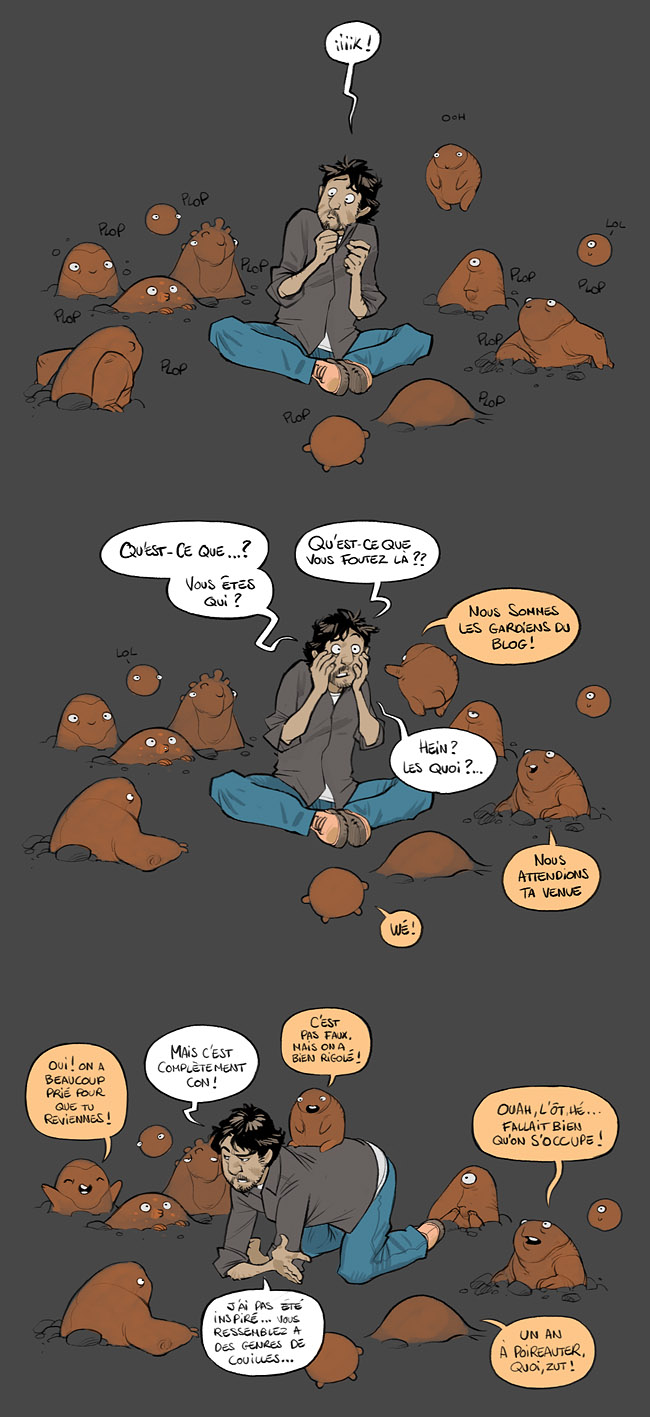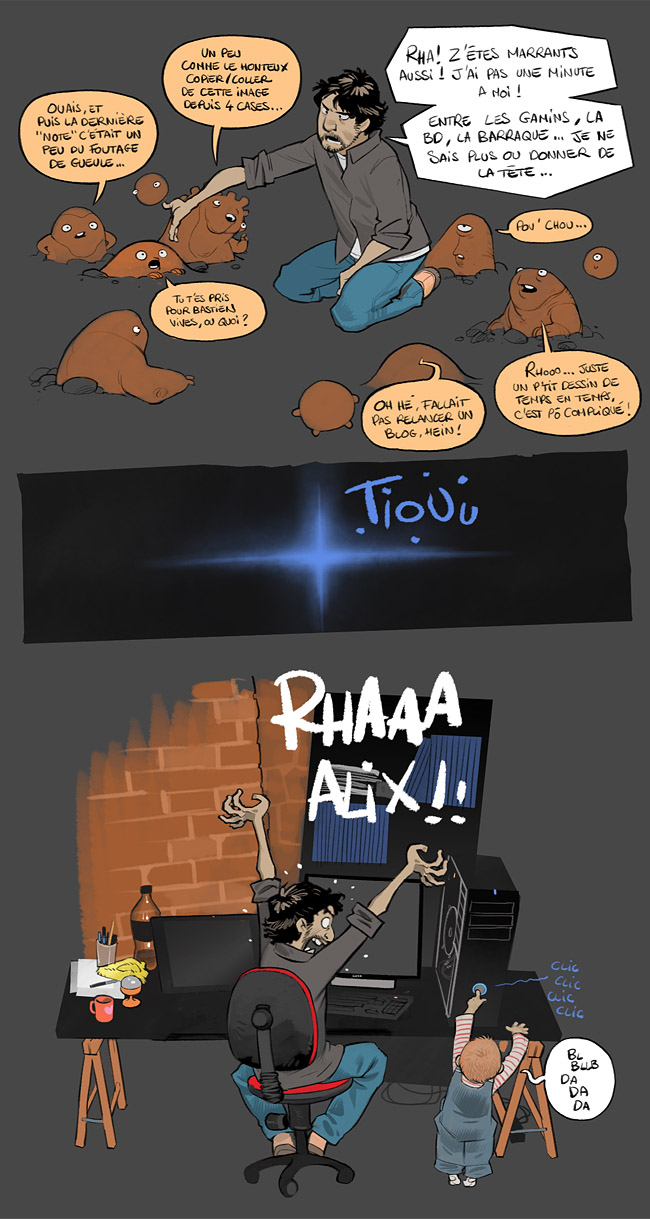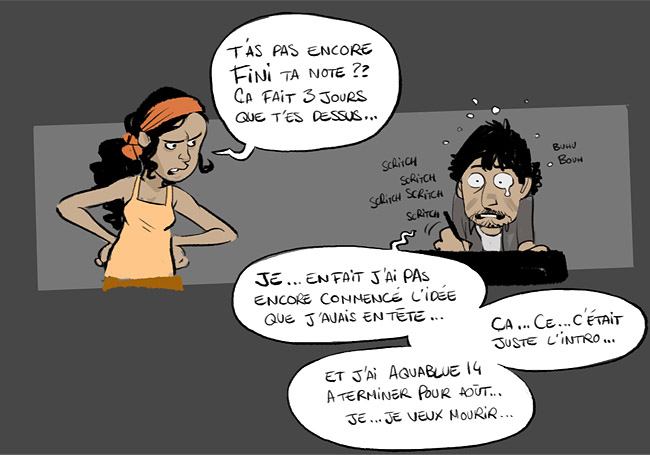 Rhaaa…Nous y voilà, le 5 juin ! Cette fois pas possible d'y couper, va falloir poster du pixel, bordel ! Je me suis bien marré l'année dernière mais la je sens que vous ne vous contenterez pas d'une petite merdouille…
Ce que je vous propose, c'est d'y aller en mode gros bourrin, je n'ai plus le temps de vous emballer tout ça avec des petits gags et des conneries mais j'ai bien conscience que vous attendez de la patouille. Alors on va faire péter la patouille, c'est moi qui vous le dis !
Autant vous prévenir tout de suite, je lâche tout en mode random, y'aura de tout, du réchauffé, de l'indédit, du cool et du nazebroque et surtout, surtout beaucoup de machins pas finis, c'est un peu pour mon malheur ma grande spécialité. Mouhahahah.
Alley, on commence justement en douceur avec une note pas finite. Frustration un jour, frustration toujours, tranquillou. J'avais commencé ça il y a deux ans, juste après ma première note, pour vous remercier d'être venu si nombreux et pour toutes les éloges dont vous m'aviez fait part. Evidemment, mon éditeur a cru bon de me rappeler mes dates de bouclage, et ça me l'a un peu coupé…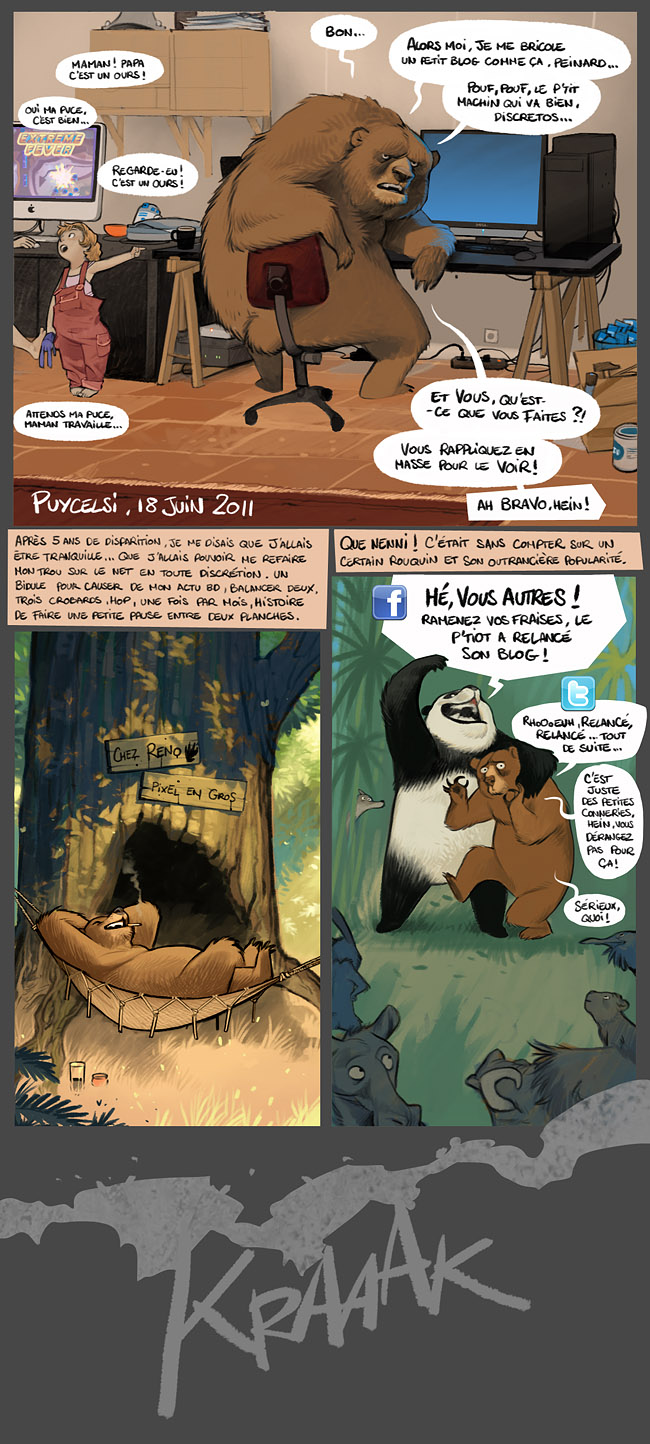 Z'êtes toujours là ? alors on continue peinard avec du gros giclage de disque dur.
Je dois vous avouer j'ai une lubie, une envie irrépressible depuis des lustres que je n'ai toujours pas réussi à assouvir, comme tout bon gros geek créatif qui se respecte je rêve de bricoler MON jeu.
Jeu video, jeu de plateau, mes envies oscillent au fil des années et des saisons mais je me heurte désespérément au même mur. Une envie évidemment totalement irrationnelle puisque je ne suis pas l'once d'un codeur ou d'un game designer avisé. J'ai bien tenté de collaborer avec des gens mais avec un boulot qui vous prends déjà l'intégralité de votre temps libre, dur dur de monter quoi que ce soit de consistant. Sans parler de mon incapacité à prendre sur moi pour communiquer convenablement, bref… c'est la cata mais je ne perds pas espoir, un jour, peut-être me prendrai-je une année sabbatique pour enfin éllaborer ça sérieusement. en attendant j'entasse sur mon disque les recherches, les petits essais, les exercices de style et les concepts-à-la-con-mais-que-oh-ça-c'est-certainement-le-jeu-du-siècle-mais-que-ah-finalement-non.
On y va en vrac, super délire. Vous noterez une obsession constante pour Catane, civilization et minecraft, parce que les hexagones, les cucubes et les pionpions, c'est bon.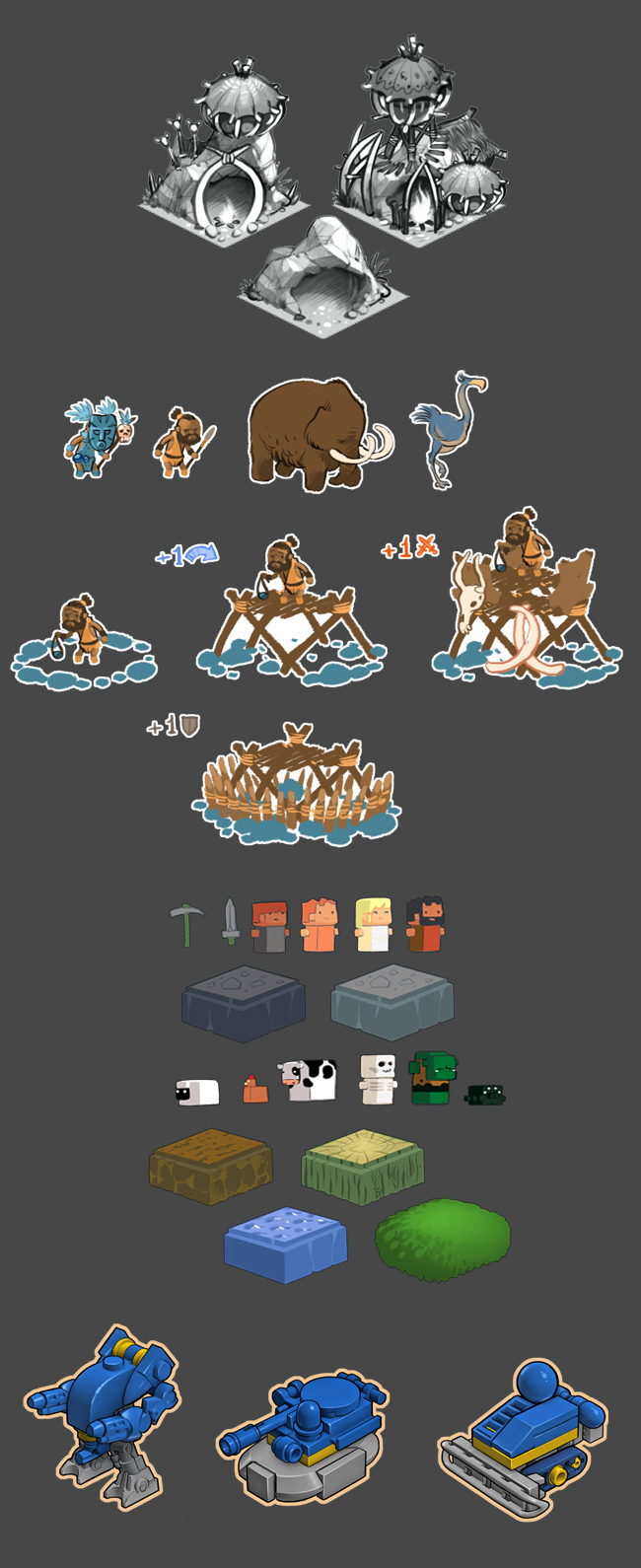 On part sur le pixel art. Le pixel art, après un boulot d'illus ou de bd un peu intense, c'est un peu la zénitude retrouvée. Le plaisir d'assembler telle une mosaïque ancienne des images qui se révèlent comme par magie. C'est aussi le plaisir de la nostalgie, d'une esthétique délicieusement kitsh et désuète, des heures passées sur Deluxe paint et des folles après-midi amiga de ma pre-adolescence à admirer démesurément pantois les jeux des bitmap brothers… C'est aussi réaliser qu'on ne s'improvise pas comme ça pixel artist, c'est un vrai savoir-faire et j'ai encore bien des étapes à gravir pour maitriser pleinement cet art délicat.
Beaucoup de vieilles choses la-dedans et ça n'intéressera certainement que les plus geeks d'entres vous, mais voilà, j'en ai un peu plus je vous le mets quand même comme qui dirait.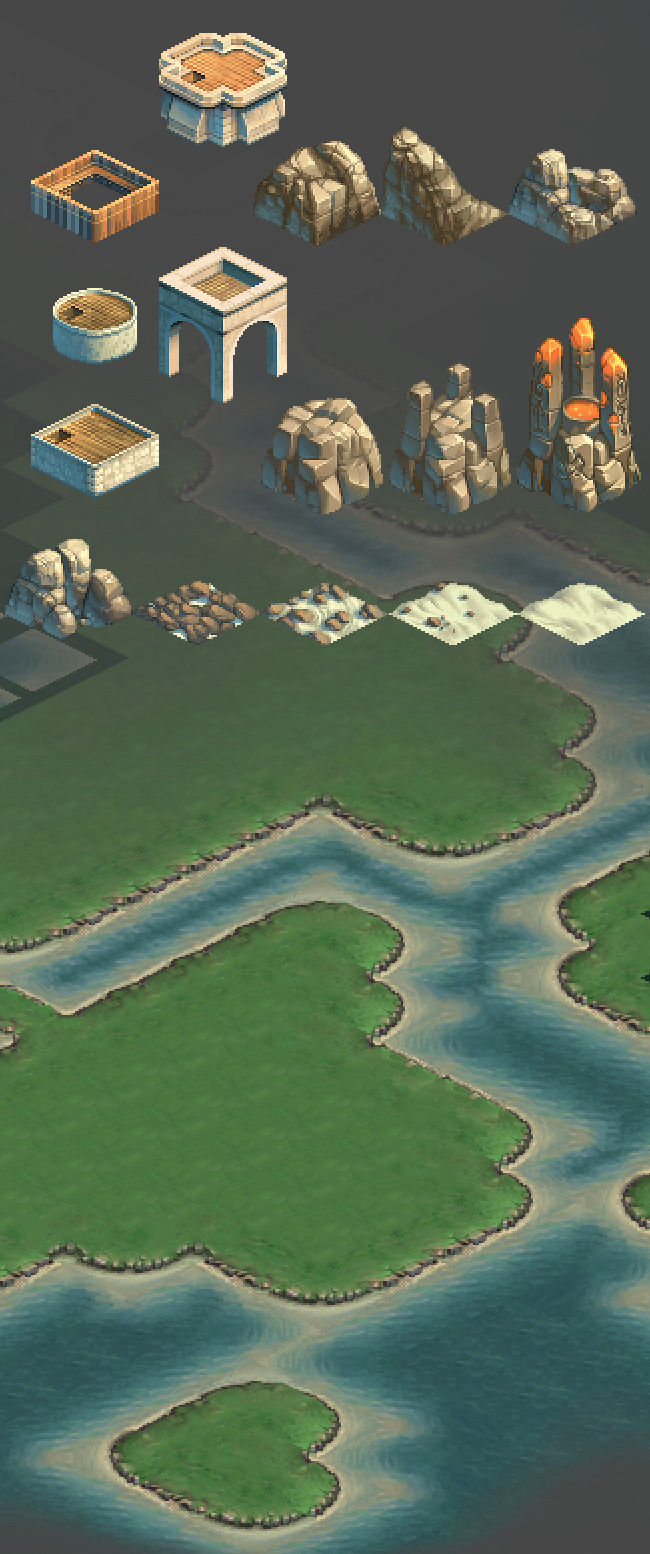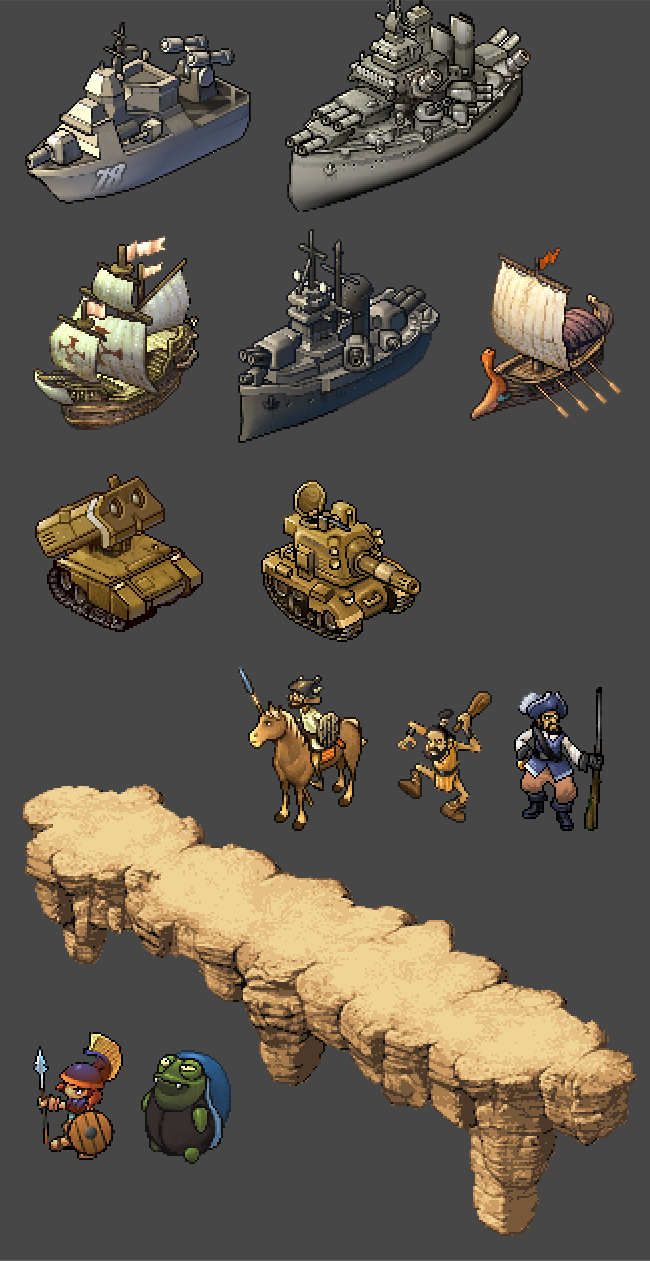 Ah si, il y a quand même UN projet abouti, grâce à Ad, le copain de Laurel, qui m'a proposé de bosser sur un de leur jeu iphone/ipad, The sandbox. Un falling sand game plus ellaboré et tactile. J'ai fait une partie des graphismes et c'était l'fun. Et c'était payé, ça aide.
plus d'infos ici pour ceusses qui veulent: The sandox.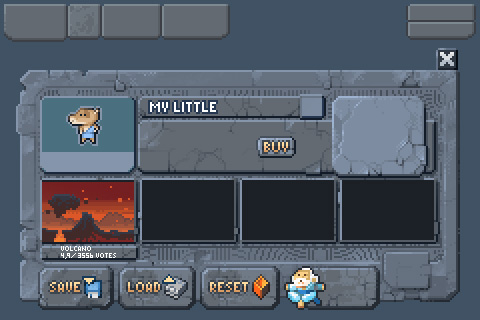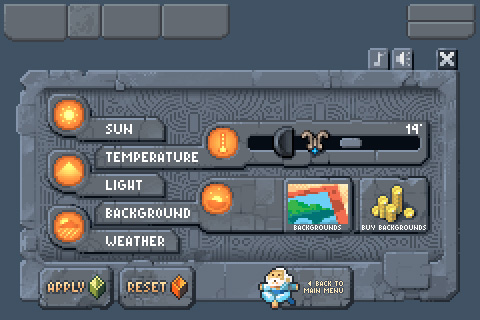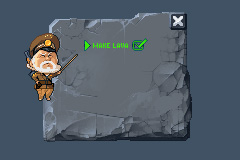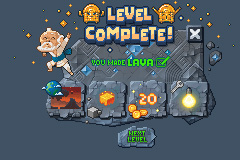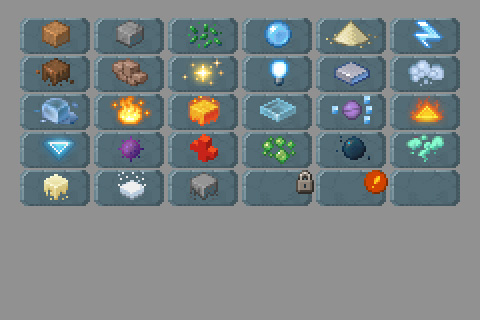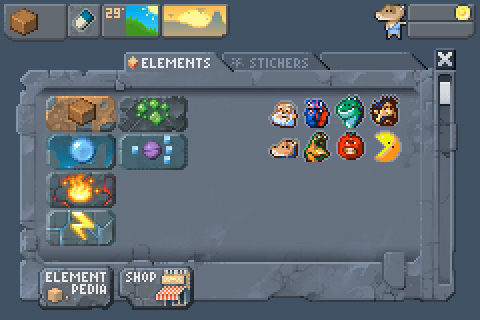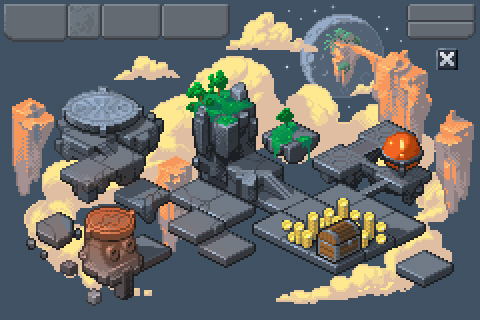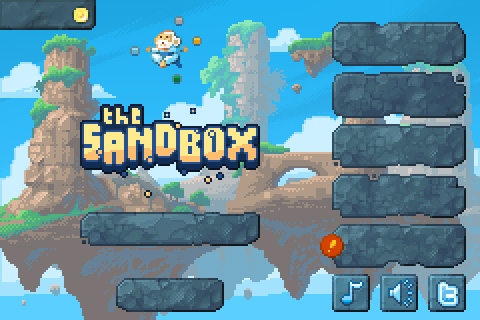 Un petit coup de minecraft pour la rigolade, dans une autre vie il faudra que je fasse un mod pour ce jeu.
Et du jeu de plateau en bazar pour terminer. Si quelqu'un a un concept qui prend le meilleur de catane et le meilleur de civilization, le tout jouable avec des non-hardcore gamers en moins de deux heures, qui ne soit pas juste un tristounet jeu de cartes sans pionpions, qu'il se manifeste, c'est mon héros.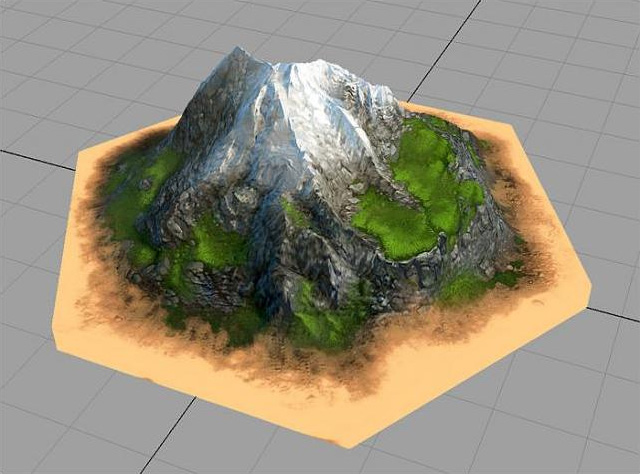 Pour ceux qui ne l'auraient pas vu à l'époque je vous enjoins à relire la note sur le blog de Mel avec du hero quest dedans.
http://www.melakarnets.com/index.php?post/2009/06/23/613-reno-quest
Egalement si toutes ces frivolités vous passionne, un site extra d'un gars super fort, Niklas Jansson, c'est une mine de concepts et de tergiversations graphiques autour des jeux videos qu'il a aimé. J'adore.
allez on ne faiblit pas; Quittons les petits pions et les petits pixel pour retrouver les illustrations et la bd. On est pas là pour rigoler, merde.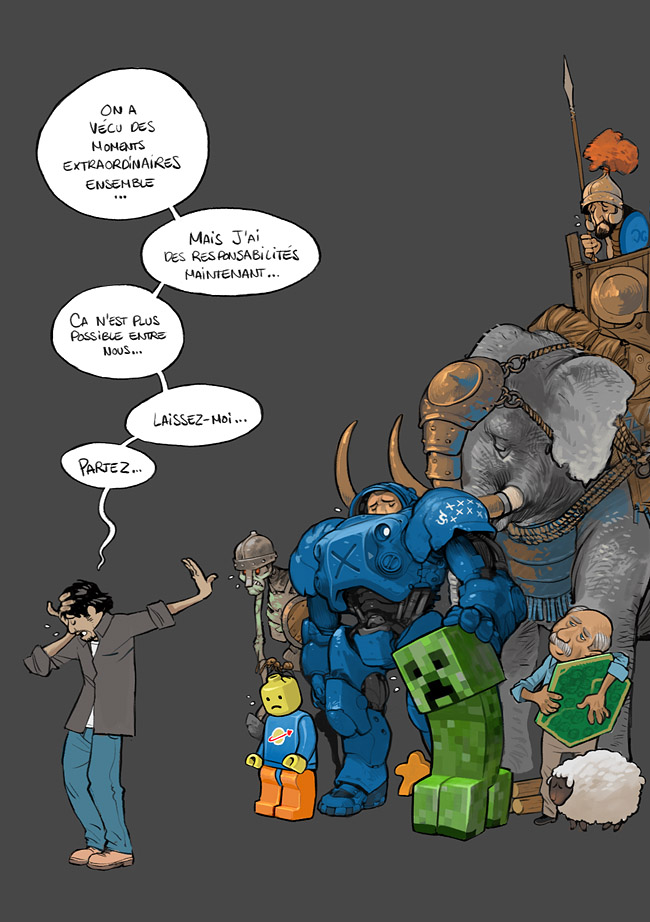 Soyons foufous, le premier qui trouve les 8 références présentes dans ce dessin gagne un album dédicacé. C'est du niveau pif poche mais vu que je ne fais plus de festivals par manque de temps, c'est l'occasion d'avoir une ptite patouille originale. Allez y'a pas de perdants, on y va, on y va.
La série suivante date d'il y a quelques années, j'avais bossé un an dans une boite d'anim. comme concept artist et character designer.( j'adore dire concept artist et character designer, ça fait pas pareil en français.) C'était vraiment un boulot super sympa. C'est aussi à cette époque que je me suis mis à bosser à la cintiq et je ne l'ai plus quitté depuis.
Toutes les images qui vont suivre sont la propriété de « The Bakery », allez pas me coller ça chez chtis panneaux.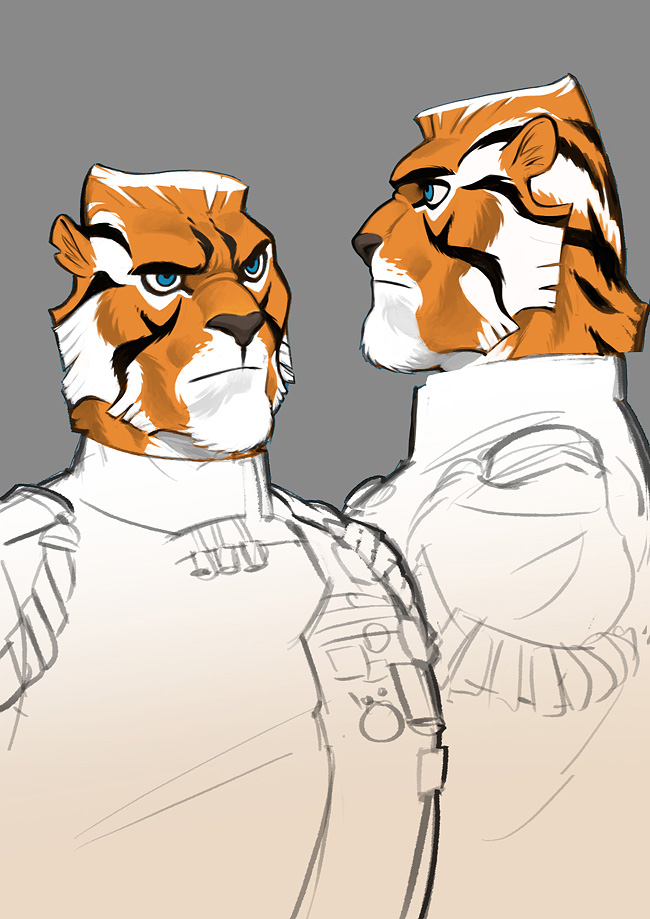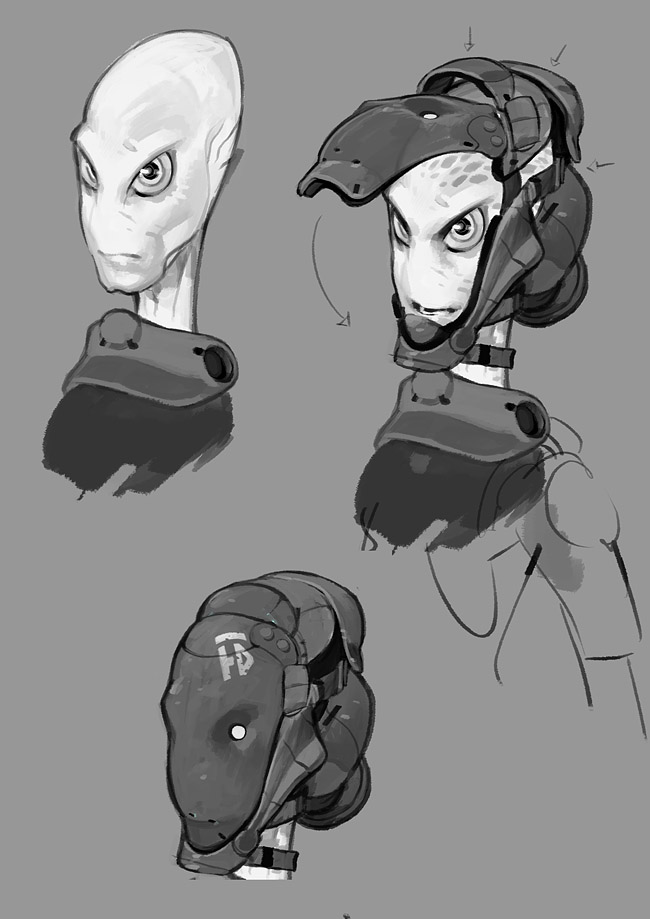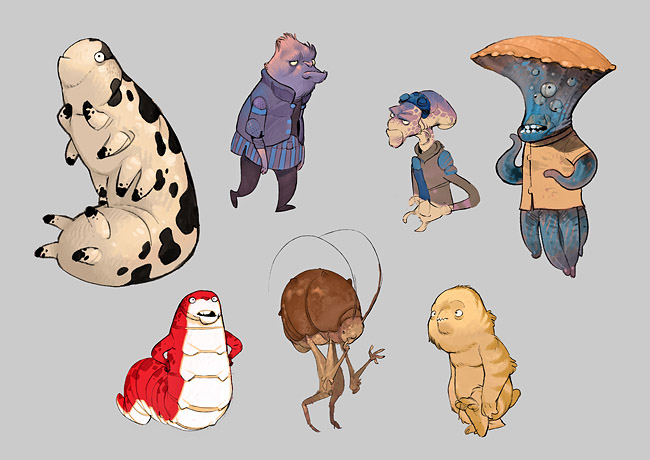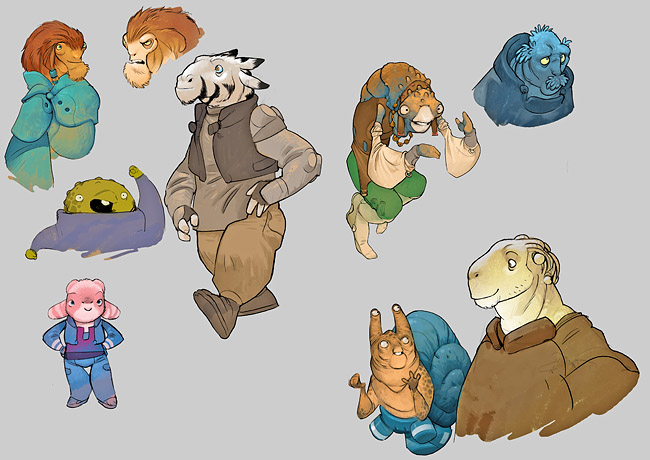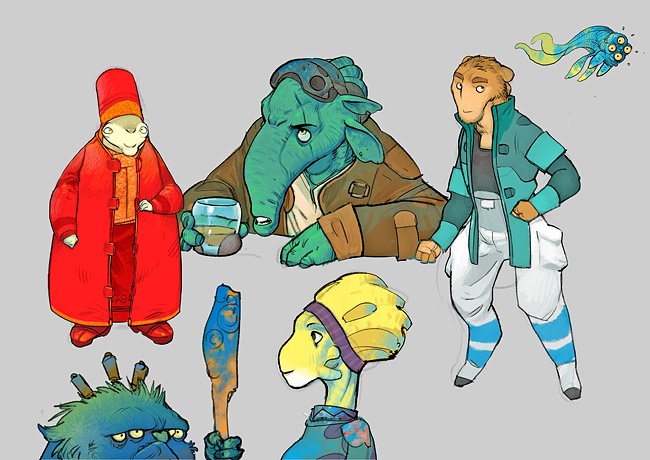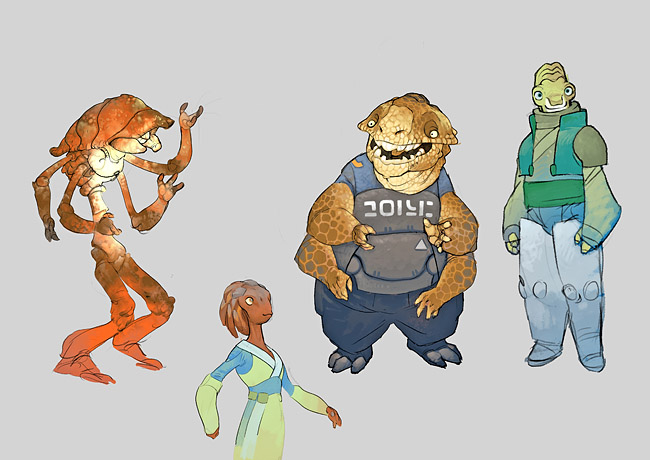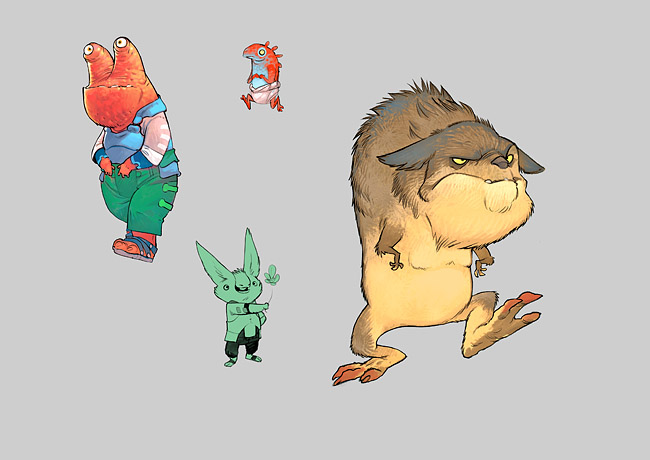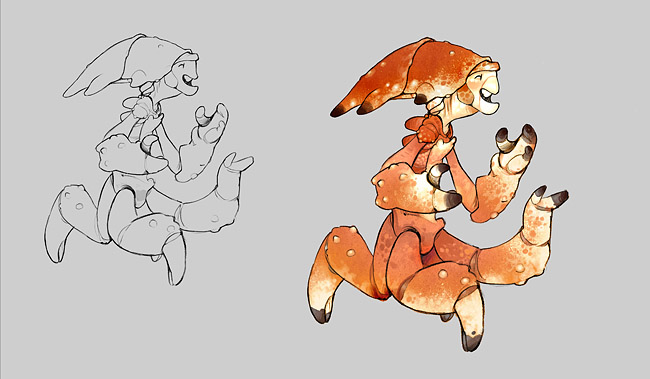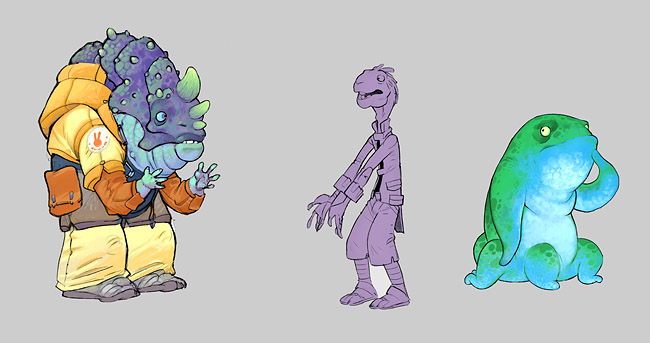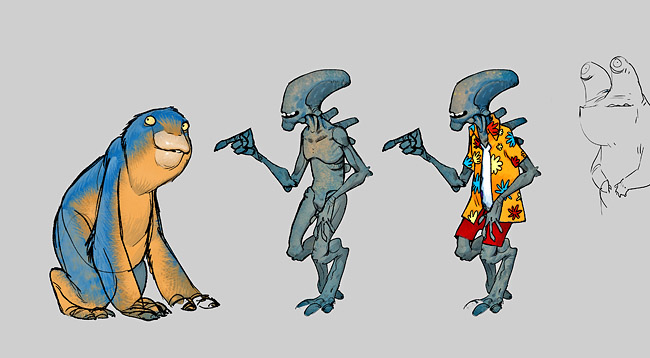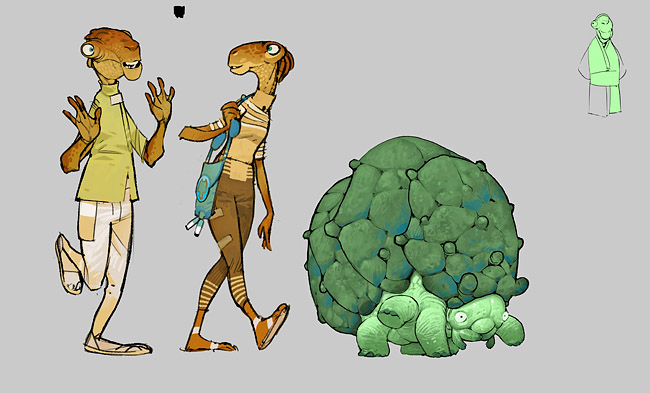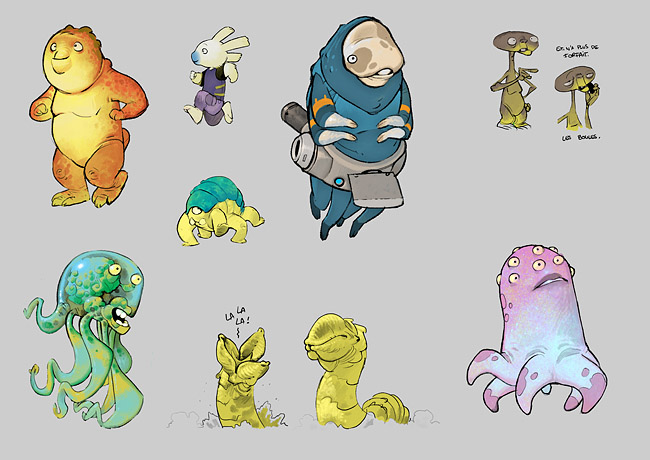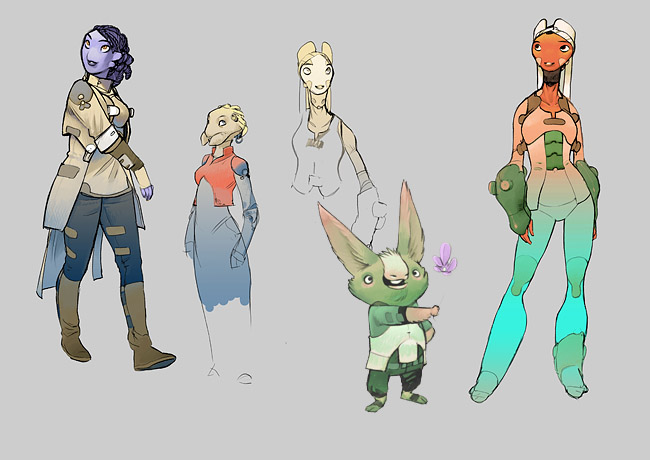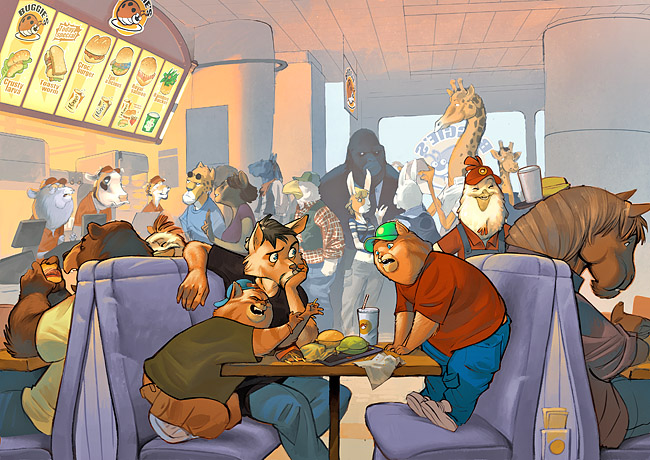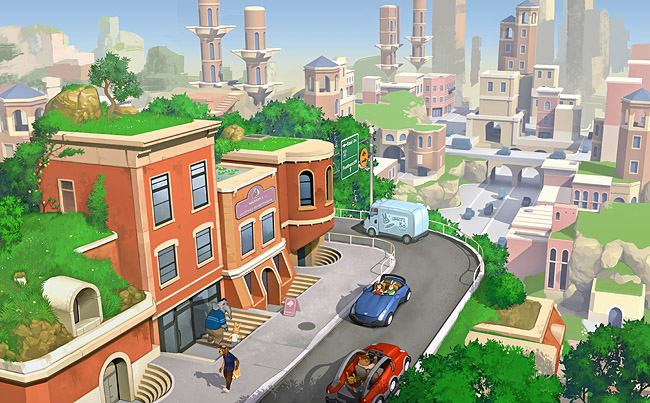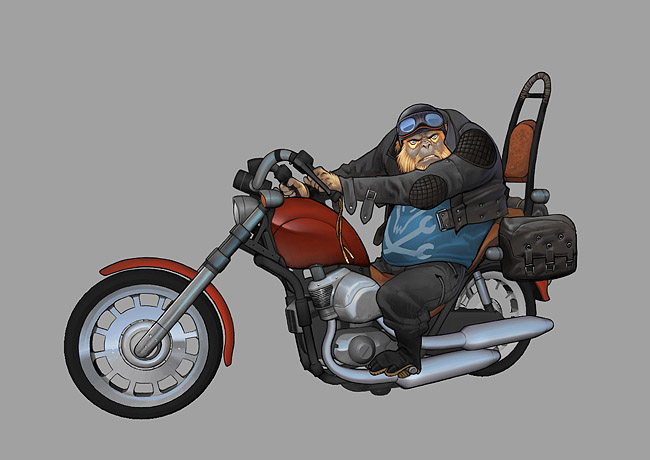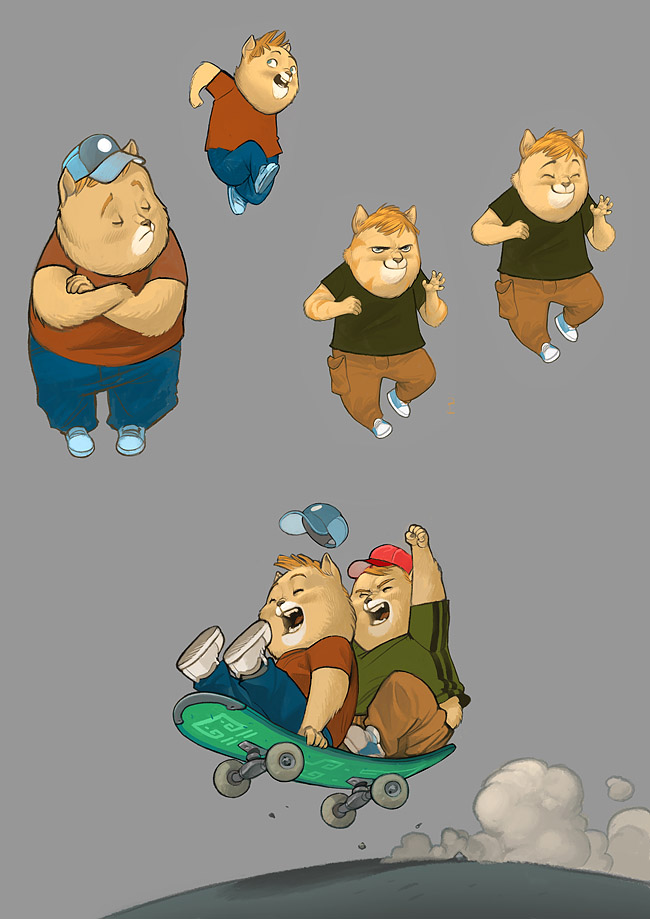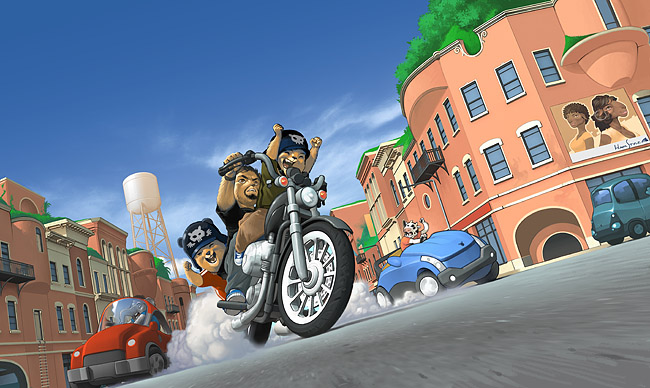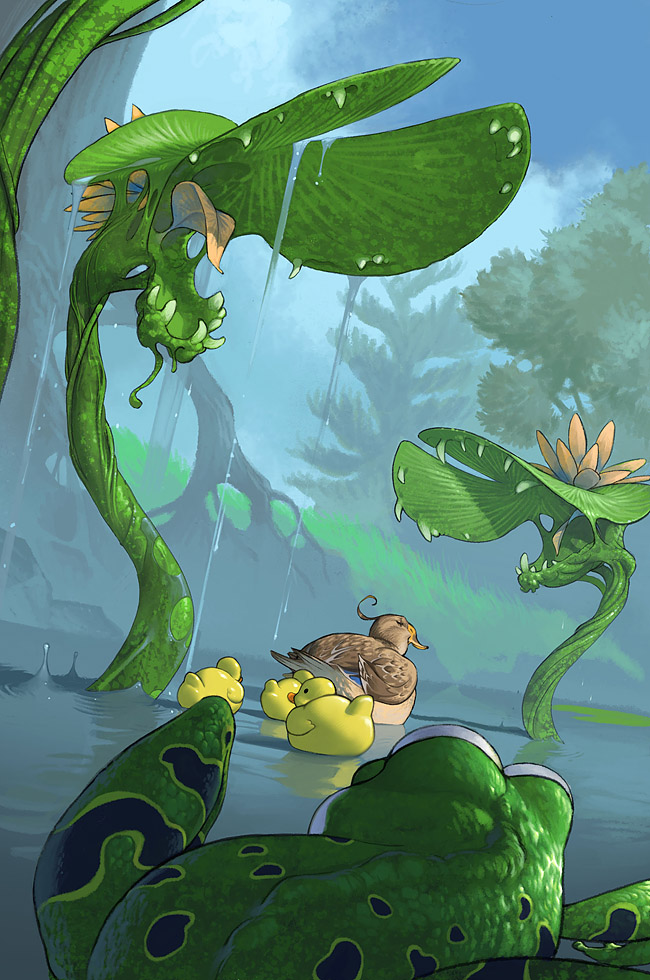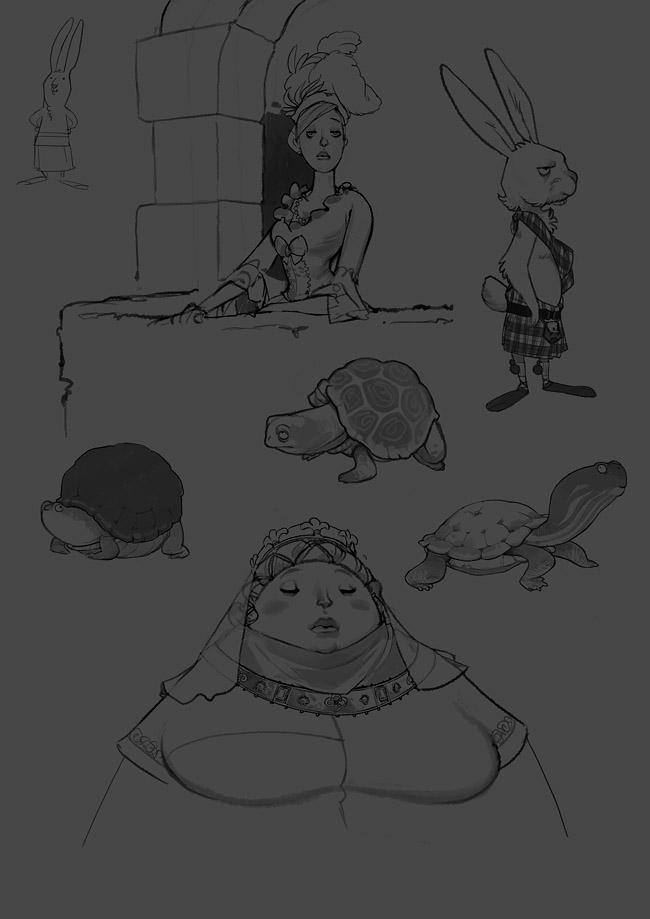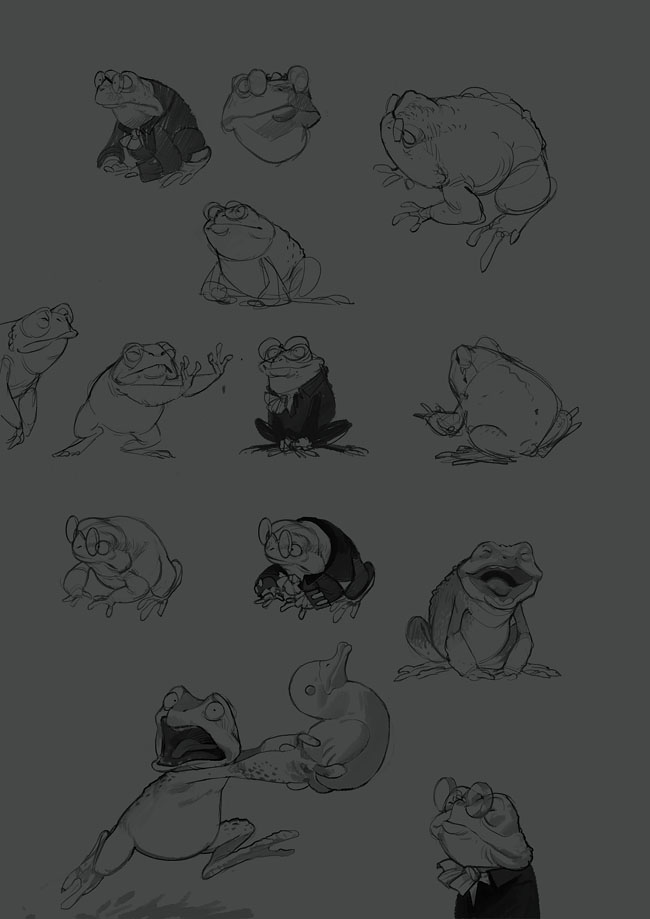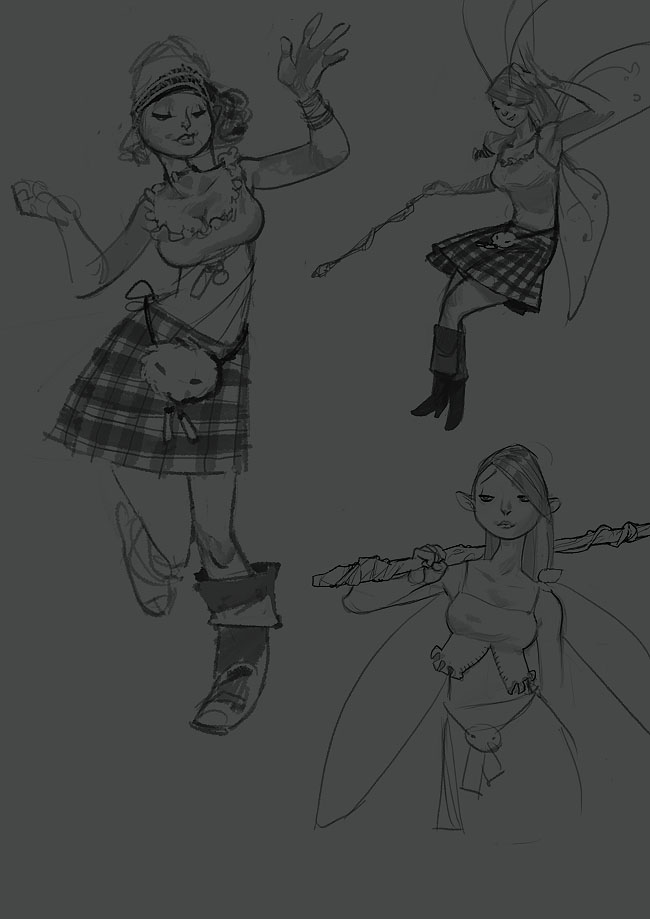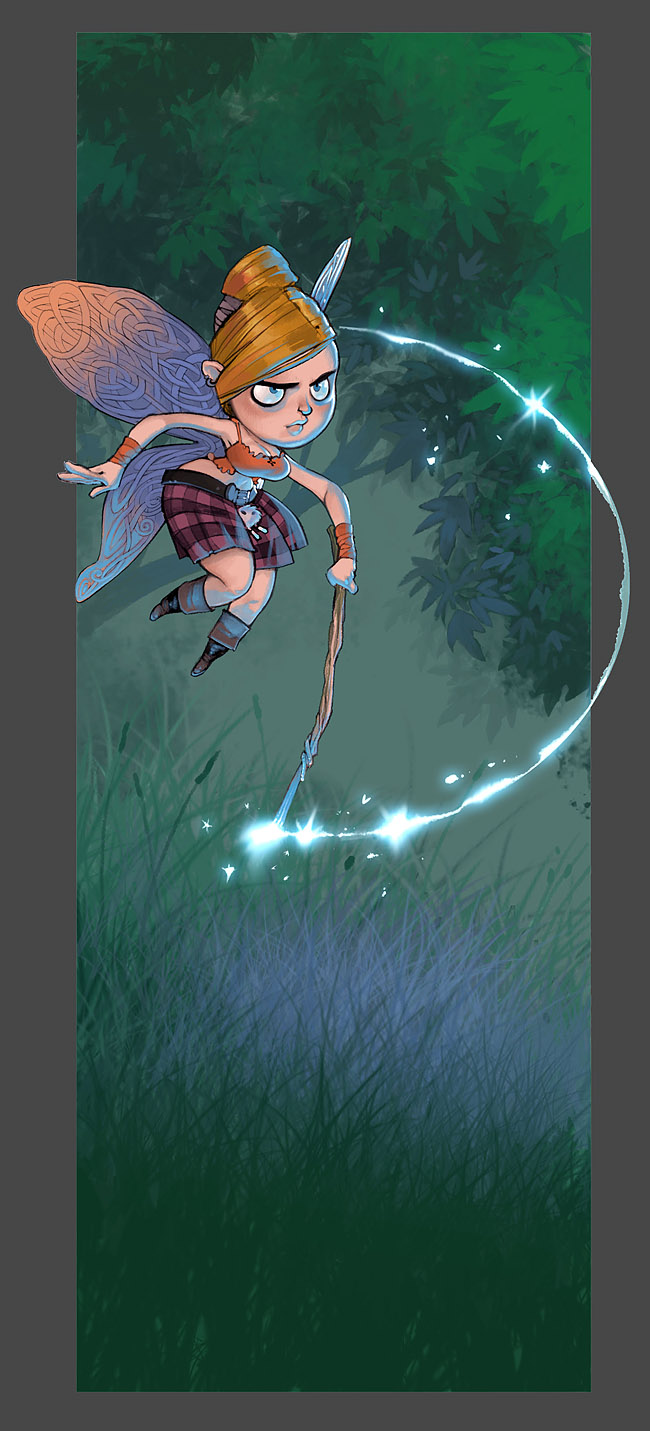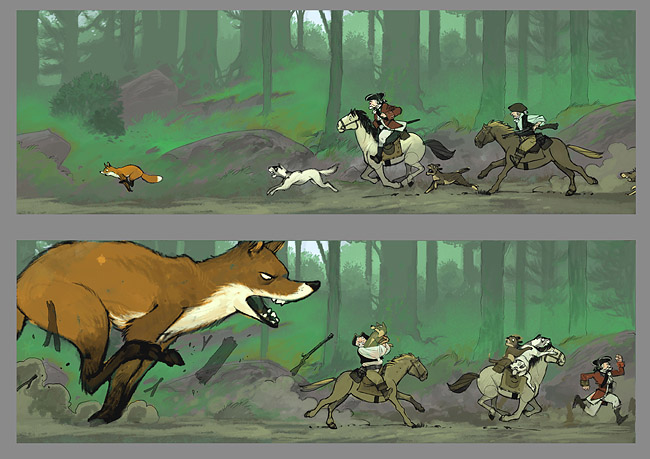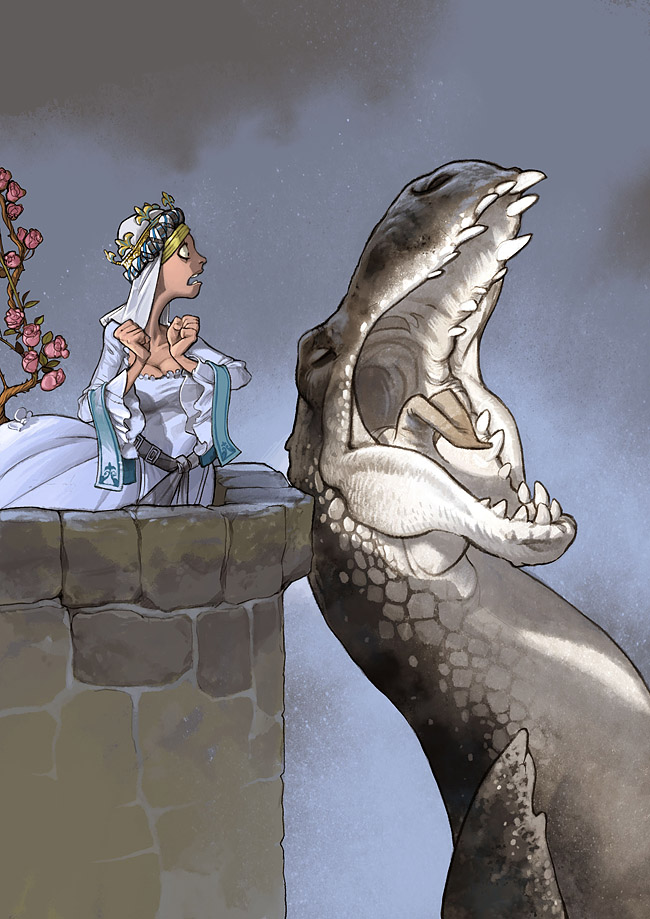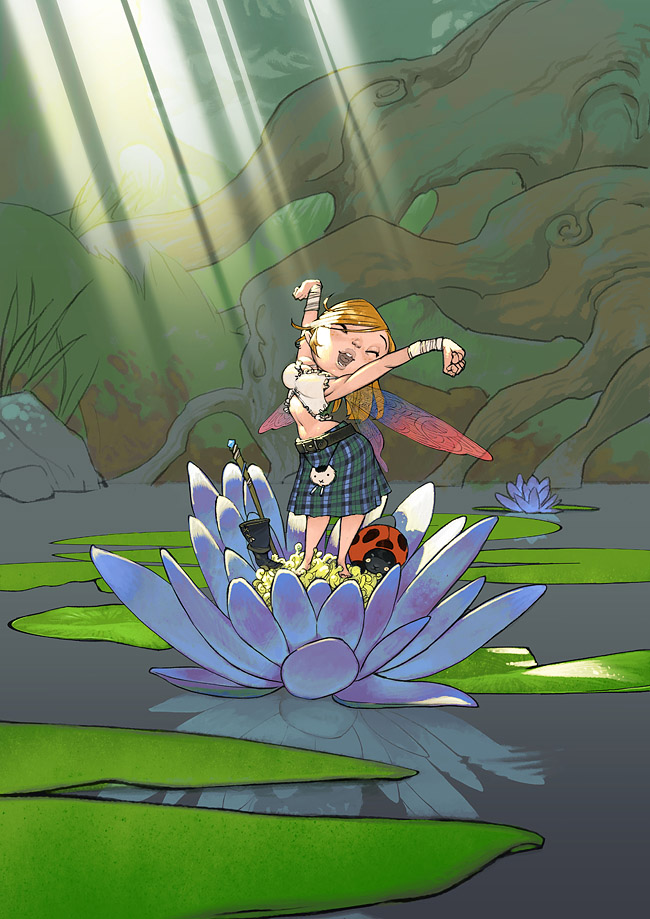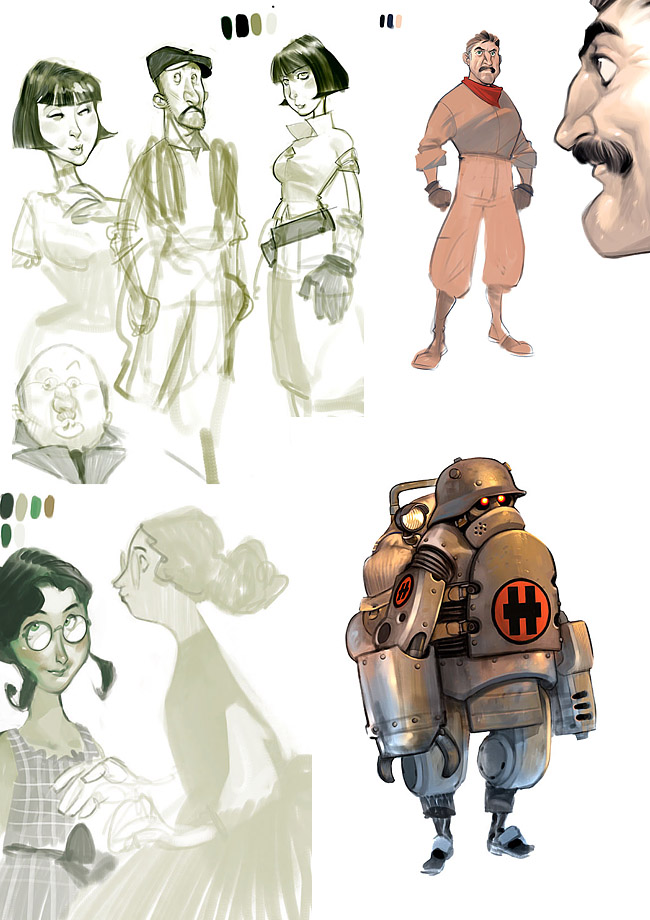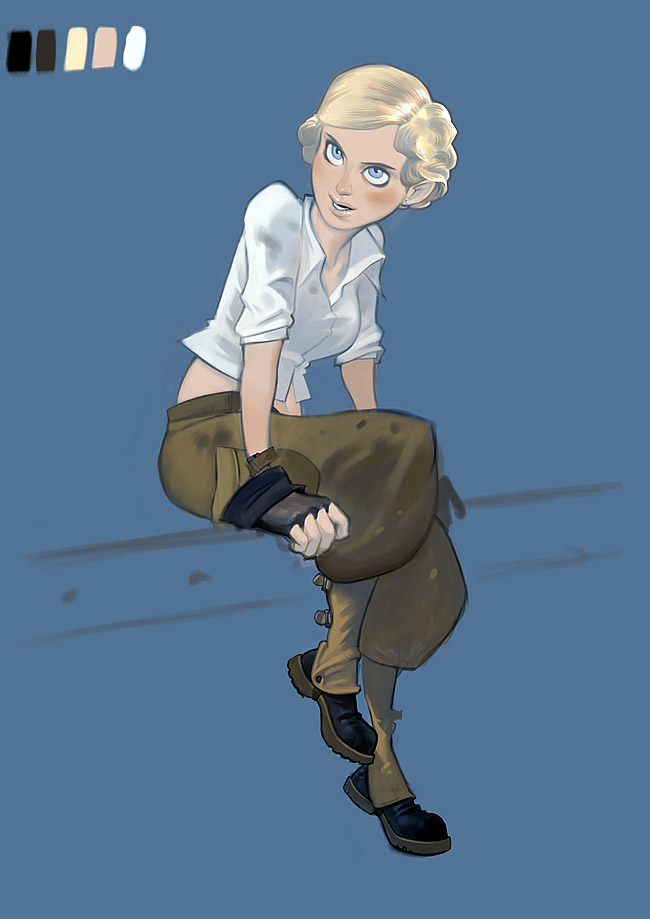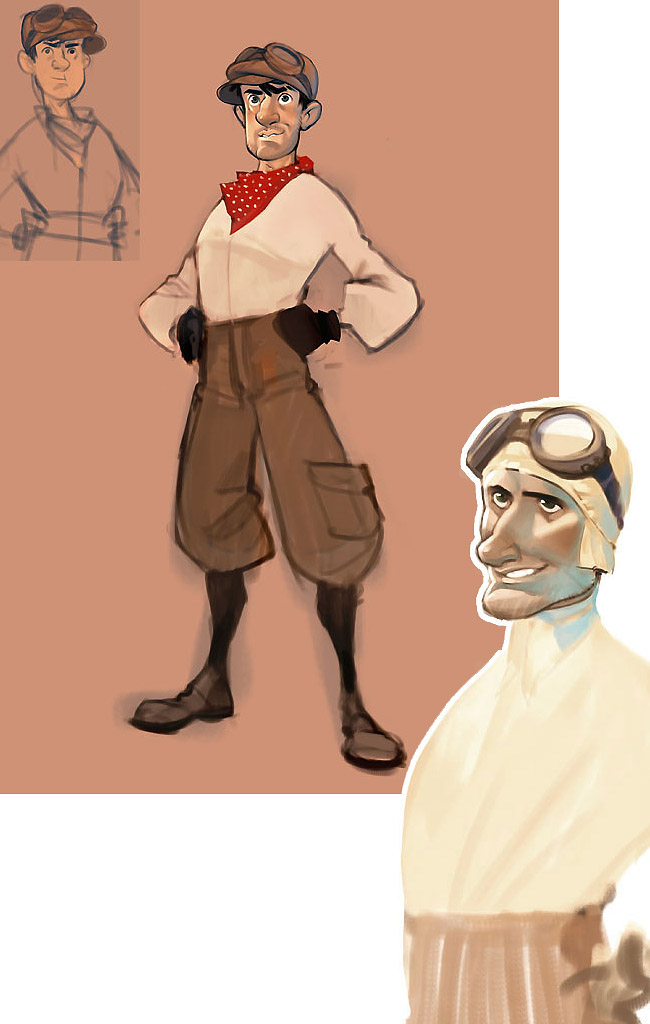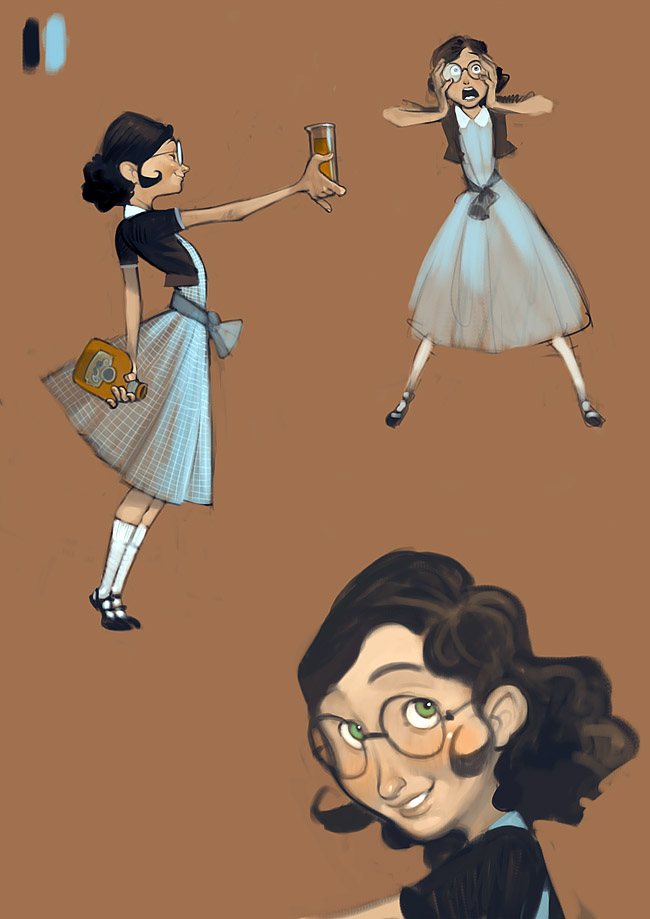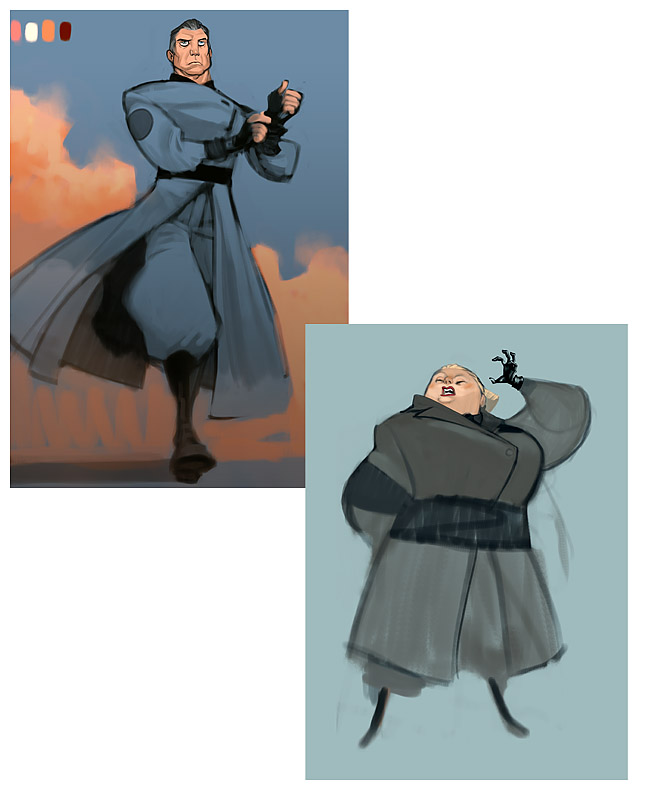 Oh ben tiens ça n'a rien à foutre là, ça, c'est plus récent et ça n'a rien à voir, tant pis je vous le mets quand même, plus rien ne m'arrêtera, mouhahahah.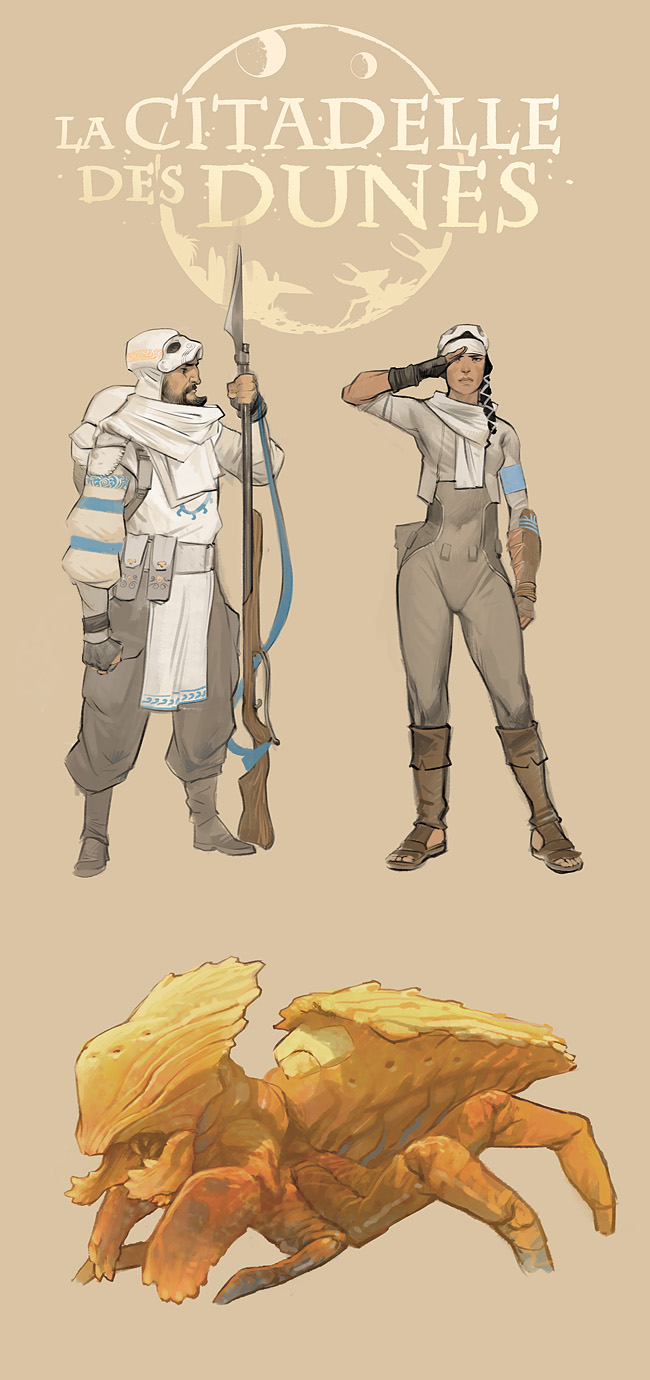 Bon, avec tout ça, vous devriez en avoir pour un moment, non ? Oui je sais c'est un peu n'importe quoi ce déballage mais ça me fait beaucoup rire. Toutes mes condoléances pour votre iphone.
Zou, last but not least, on termine dans la joie sur Aquablue. Ca va faire 3 ans que je bosse dessus et je prends toujours autant mon pied. Comme le disait très justement mon scénariste Régis Hautière, « on nous a filé la boite de lego ultime et on nous paye pour jouer avec ». Régis il est comme ça, toujours la phrase qui fait mouche.
Plus sérieusement quand Delcourt m'a contacté pour reprendre cette série ça m'a un peu fait ça:
Parce que finalement c'est un peu la série qui synthétise toutes mes lubies et tous les méandres de mon imaginaire. Wesh gros. Et je suis bien content. J'ai encore du chemin à faire pour arriver au graphisme auquel j'aspire, à la fois hyper réaliste et péchu mais j'y vais tranquillou et c'est cool. ( en fait non c'est pas cool du tout je dois tout boucler dans deux mois, c'est horrible, je fais du caca tout coincé qui pue la 3d, je souffre, rha.)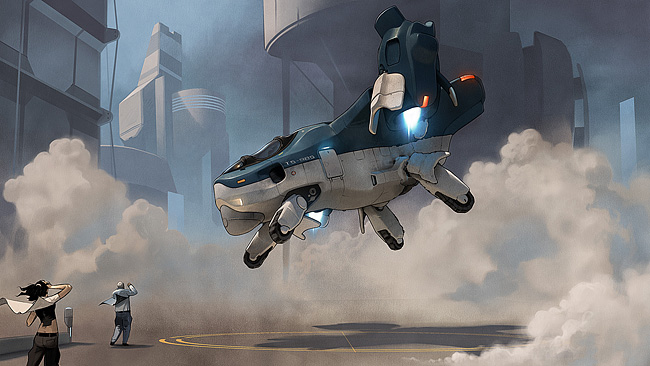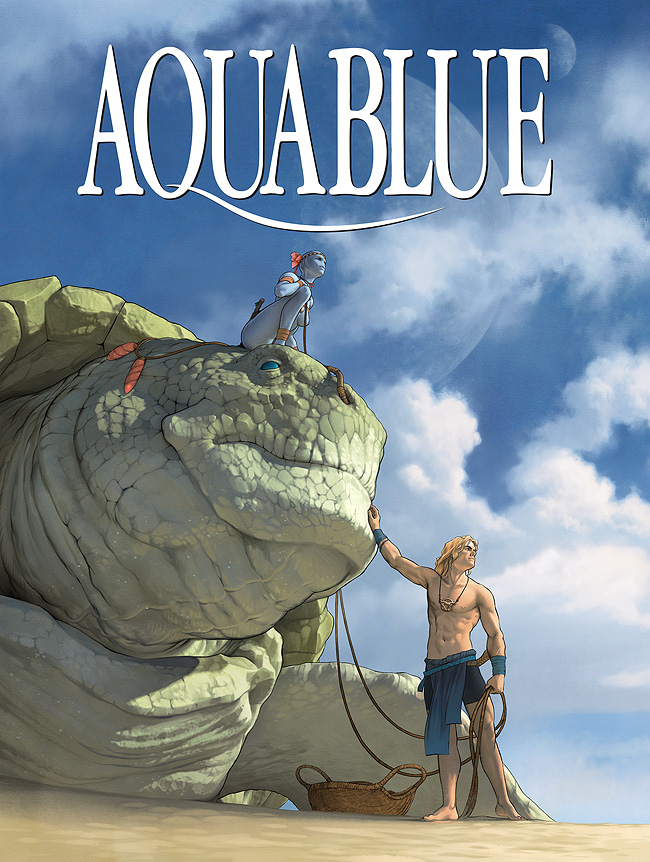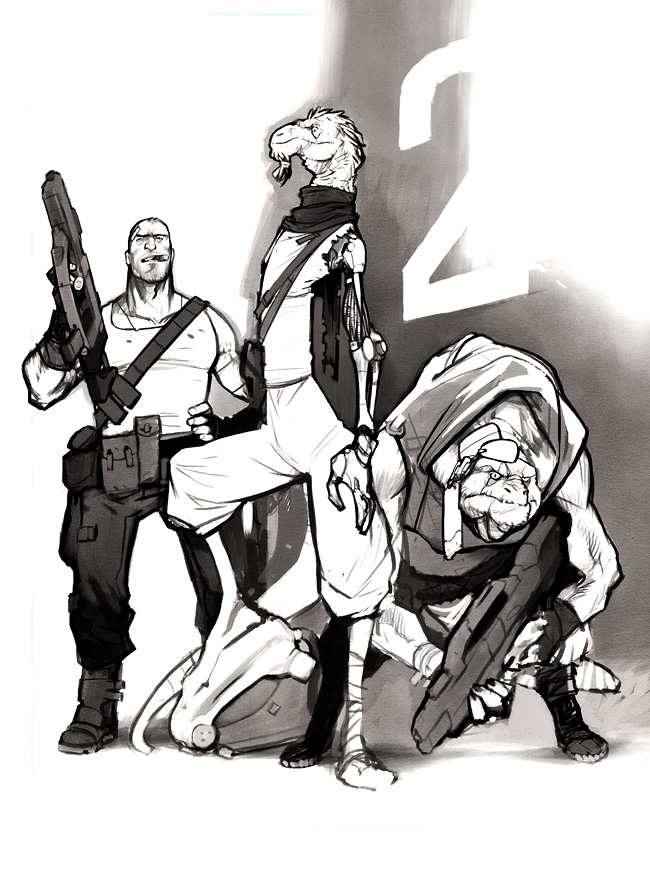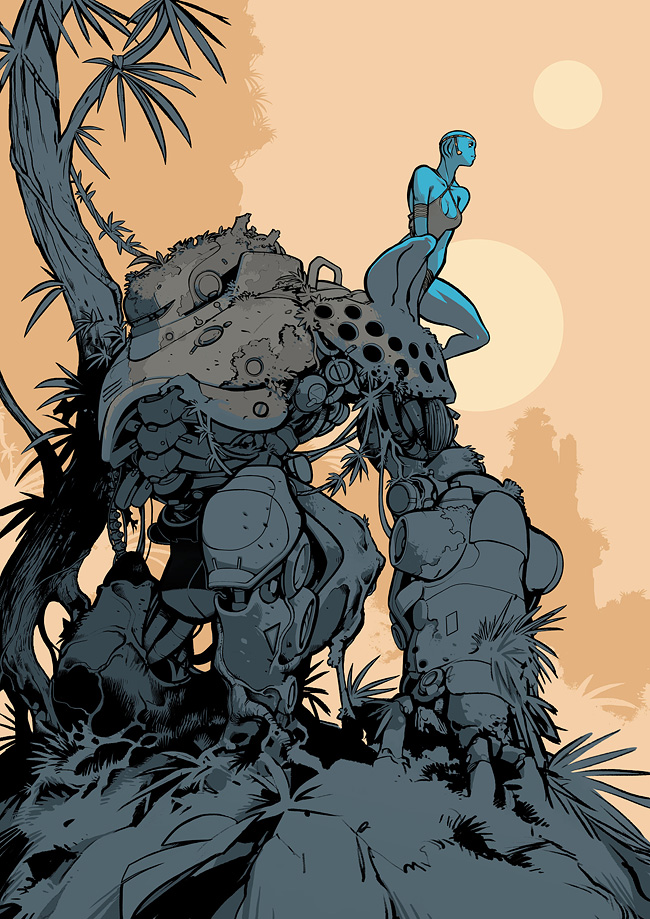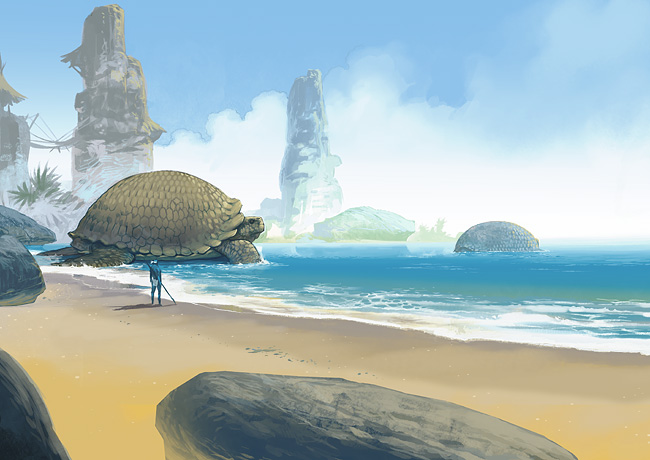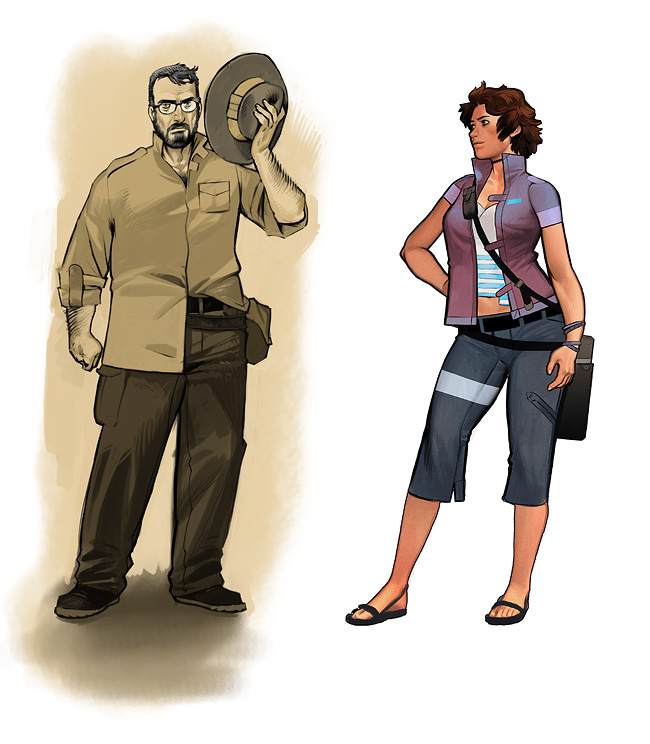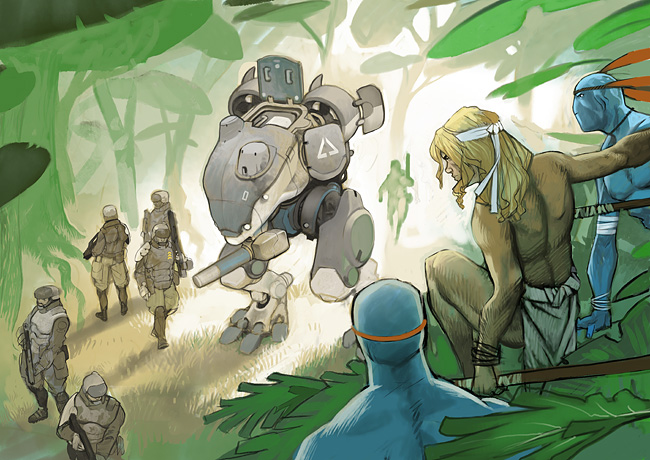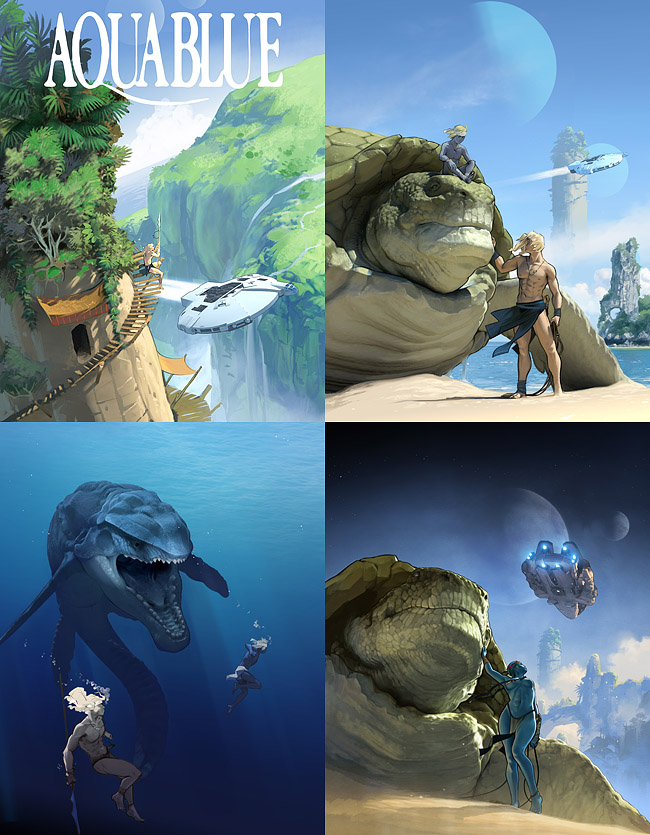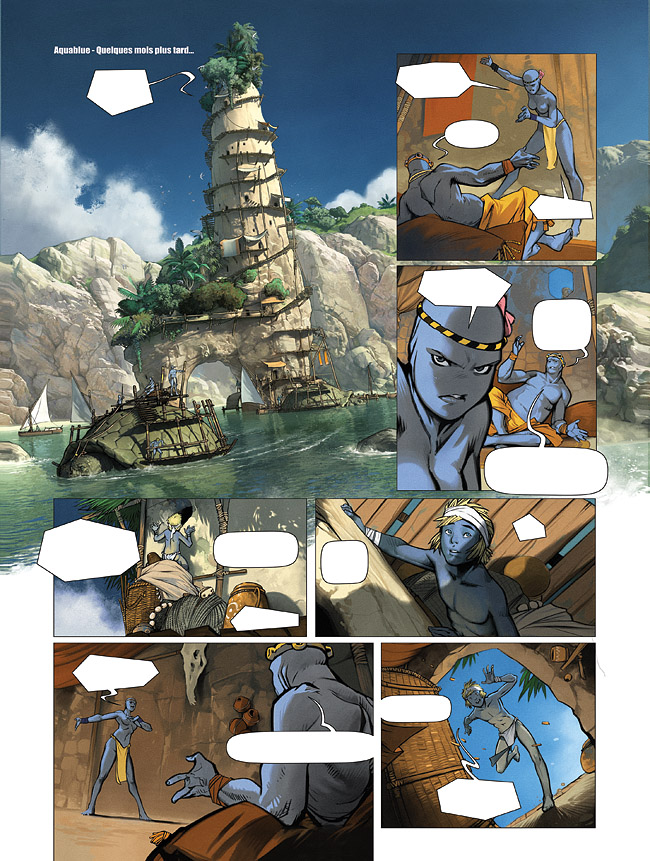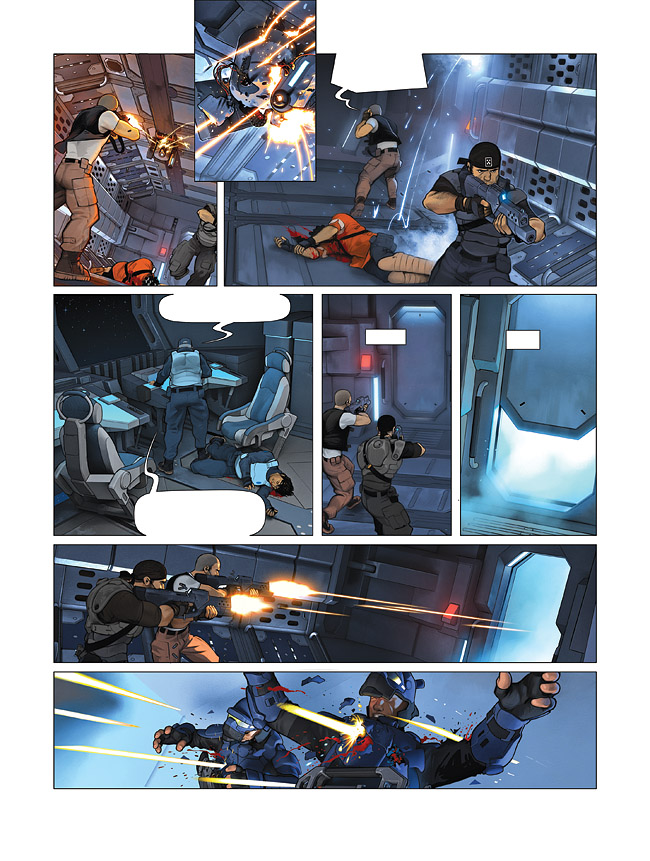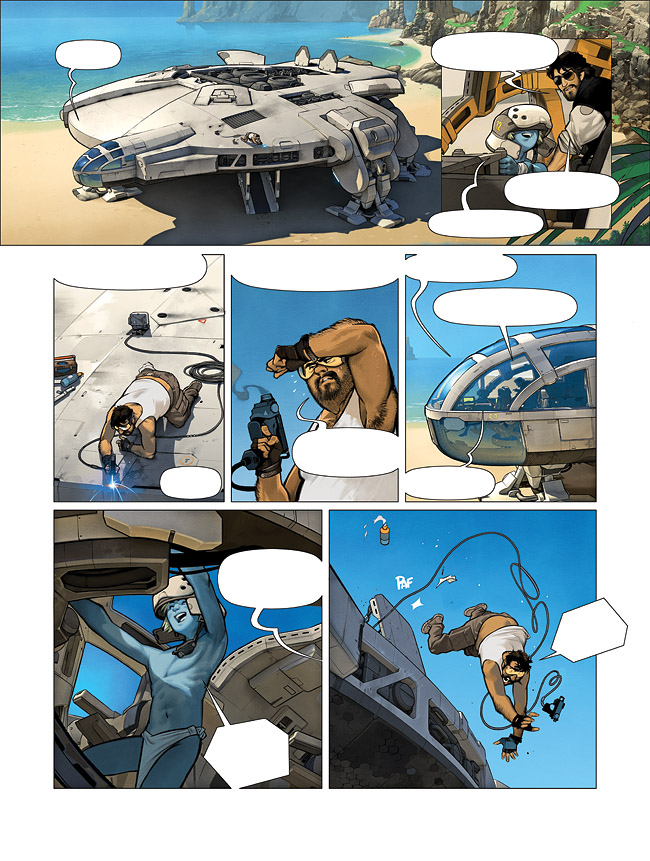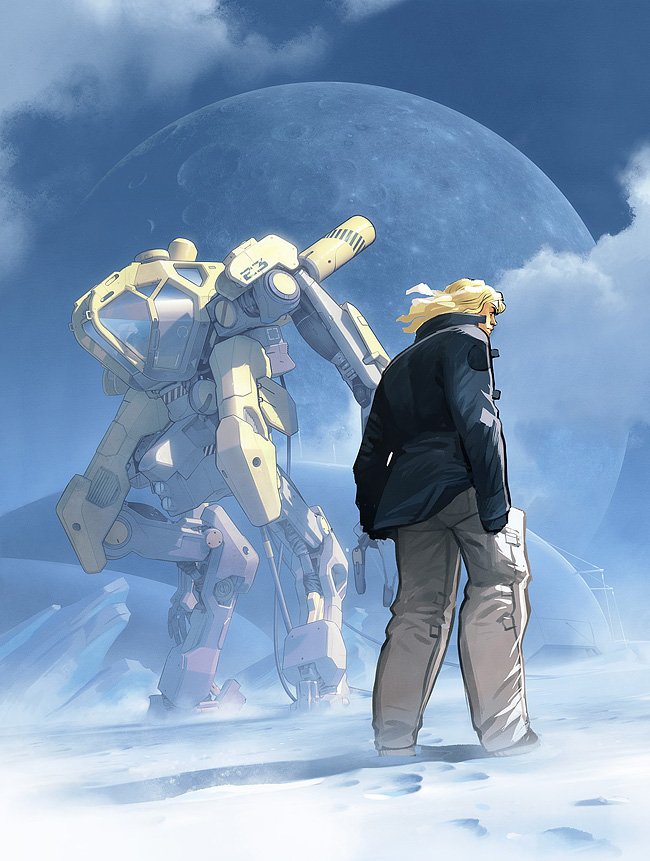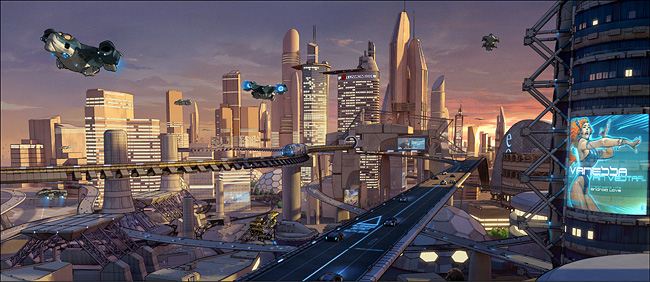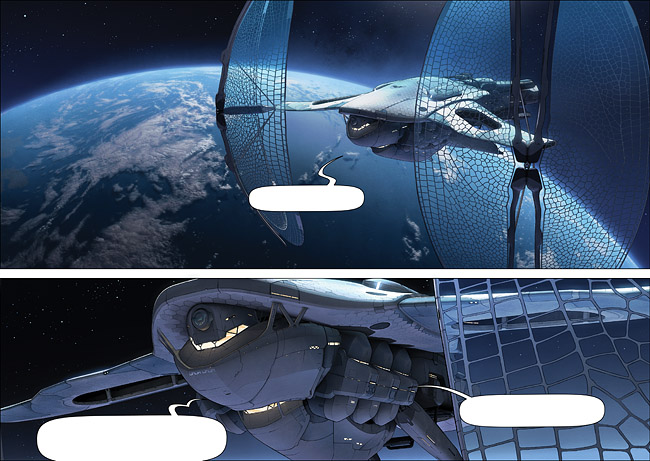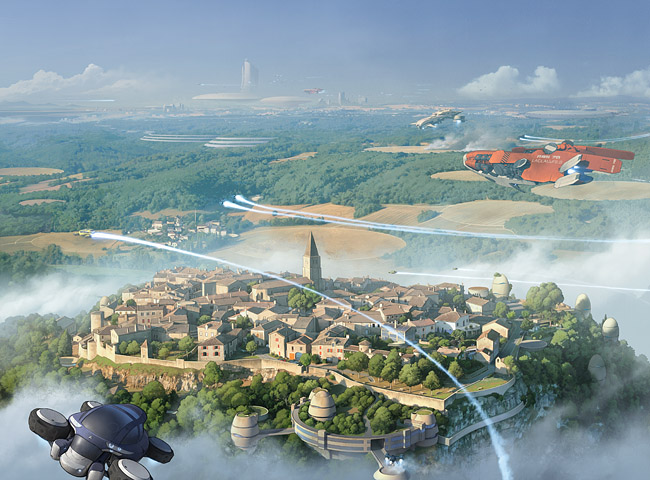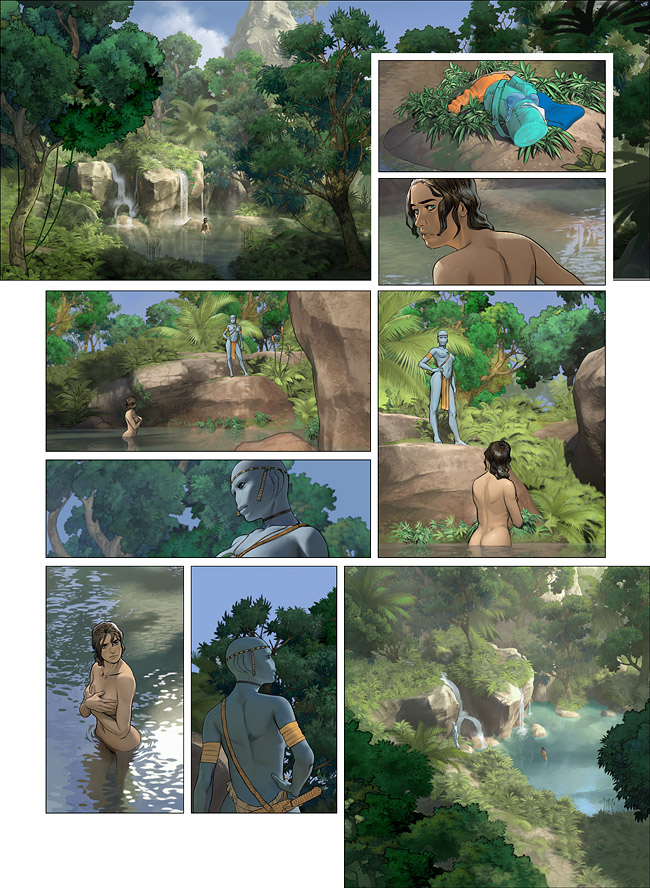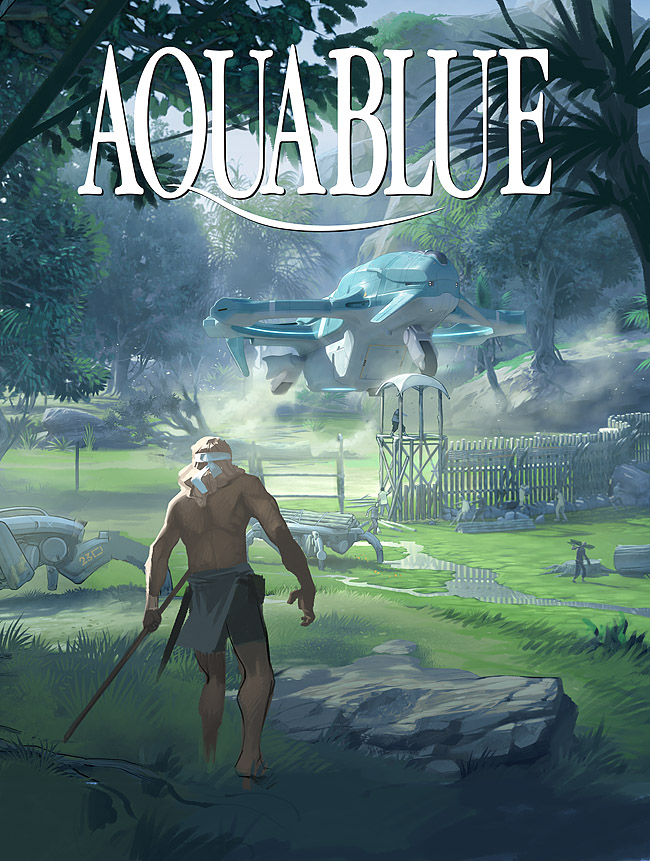 La couv du prochain tome qui devrait sortir en octobre: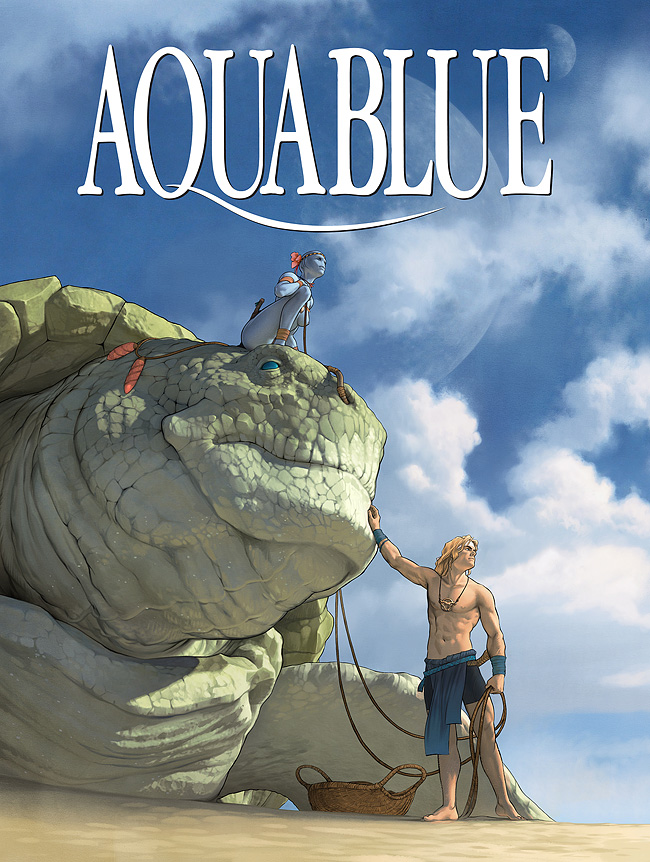 Et comme vous avez été très sages et très persévérants je vous ai mitonné une pitite vidéo making-of, c'est pas la compo la plus intéressante ni mon dessin le plus juste mais bon, voila, c'est mon premier enregistrement, tout ça tout ça. ( c'est ptet un shouilla rapide aussi mais je ne voulais pas que ça dure 3 plombes.)
http://www.youtube.com/watch?v=Z76zE8lmTLU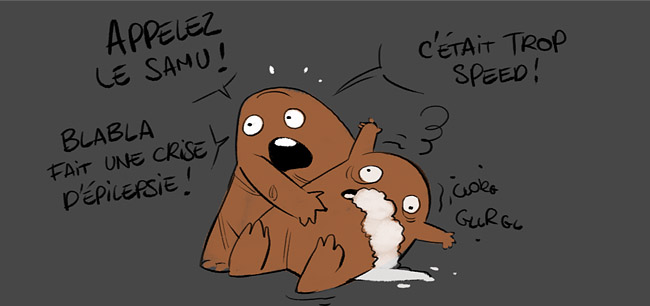 Mince laissez-moi regarder comment qu'on incruste une video youtube dans un blog wordpress et je vous édite ça.
Bon, je crois qu'on arrive à la fin…C'est la note-qui-n'en-est-pas-vraiment-une la plus nawak et mal gaulée de toute la bloggosphère, si j'ai le temps,-ahah-un jour je rebricolerai tout ça pour intégrer des galeries, ça sera un peu moins indigeste.
Mais j'aime bien le principe du gavage, ça devrait vous tenir un petit moment. J'aurais aimé disserter plus en détails sur certains aspects de mon boulot mais on va garder ça pour une prochaine fois. Huhu.
En tout cas, je vous remercie tous pour votre gentillesse et votre fidélité malgré mon silence et mes mises à jours inexistantes. Pas un seul troll, pas un énervé, vous me faites regagner un peu d'espoir dans le net. Moi je dis bravo.
Autant de posts avec si peu de notes, je crois qu'on tient là un concept artistique singulier qui devrait faire date dans le petit univers des blogs bd.
Un grand merci à Luc Didry pour la bannière animée super michto ( hihihi, je l'ai mis en ligne hier soir 😉
Love sur vous.